Stakeholder engagement, events and feedback
A scrapbook of engagments with our stakeholders. 
---
Brilliant!!
Thanks Lynda.
I have managed to generate everything I needed from the data I entered. Although the subject is Requirements Engineering I have been itching to have an excuse to see how your software works and have been very impressed.
I only wish I had this type of tool available to me when I was running my last major complex project. I think the communications plan is often treated as a tick in the box activity, which once approved goes on the shelf. Through the use of your tool, I could see stakeholder management becoming a task that could be managed to the level it deserves across the Project Management Office.
The ability to be able to manage stakeholders through an interactive application that is dynamic and easy to use will save hours of work !
Mike Hartas, MM.
Senior Project Manager, CPPD
---
 
Lynda was recently elected a Fellow of Australian Computer Society,
seen here receiving her certificate from Ian Dennis
Sept. 2012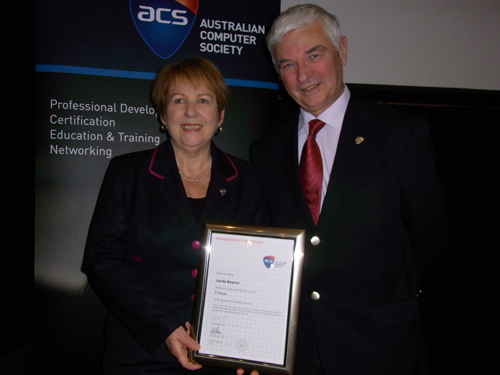 ---
Lynda Bourne has spoken several times for CIPS over the last four years at our renowned CIPSA CONFERENCES. Our audiences are comprised of senior procurement officials and executives form the top 400 companies in Australia & NZ and from the senior ranks of the public service in eleven governments.
She has always received good feedback from her contributions, which are particularly useful for procurement for procurement professionals. Her topic of stakeholder management and engagement is critical to procurement managers as are her presentations that unravel the mysteries of project management as a discipline in its own right.
Lynda has also very capably facilitated several of our post-conference half day workshops. Her feedback scores have always been good. He book on project management is endorsed by CIPS, and included on our reading list.
Regards,
Jonathan Dutton FCIPS
Managing Director |CIPS Australasia
---

Linked-In Group: Stakeholder Relationship Management
Discussion: This is an interesting post on Credit, Trust and Emotions that helps explain why the recovery from the GFC is so slow and the importance of emotions in the process of trusting.
Thanks for sharing this. As you may have noticed I've regularly linked to Dr. Bourne's blog. She is truly one of the outstanding thought leaders in stakeholder engagement/management.
Posted by Don Radoli Senior Communications Adviser at The Norwegian Immigration Appeals Board, Oslo Area, Norway
---

Occasional Address:
Graduation Ceremony, Faculty of Arts and Education, Deakin University,
April 2012 
---

The EAN University in Bogota, Colombia, invited Dr. Bourne to present at our conference in 2010 and to lead workshops on stakeholder engagement. Her presentation "Why is stakeholder management so difficult?" and her workshops were interesting and informative and provided valuable insights into what it takes to engage stakeholders effectively.
We invited her to present at our virtual conference in 2011: once again, faculty and students found Dr Bourne's contribution to their knowledge on stakeholder engagement practices most valuable.
Carlos Largacha-Martínez Ph. D.
Profesor Titular
Universidad EAN
---

Real stakeholders in Rio at the Porcão Rio's churrascaria resturaunt